St. Petersburg — Tram Parade
15
photo
with description
23.11.2019 09:00
23.11.2019 09:00
Andrey Panevin

St. Petersburg, Engineering street, tram parade. Photos are old, back in 2012 - 105 years of the St. Petersburg tram.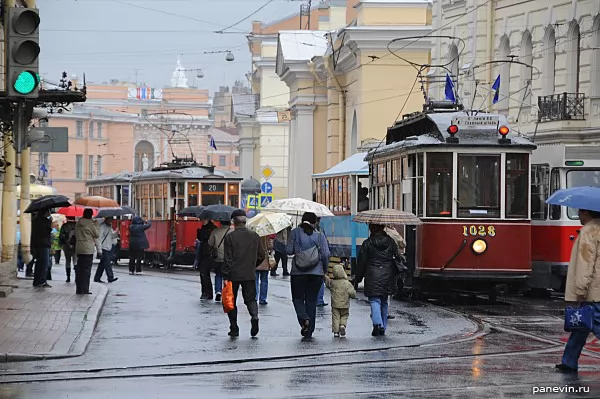 Petersburg trams of different years
The first is a replica of the very first tram, which in 1907 made its first voyage through the streets of St. Petersburg.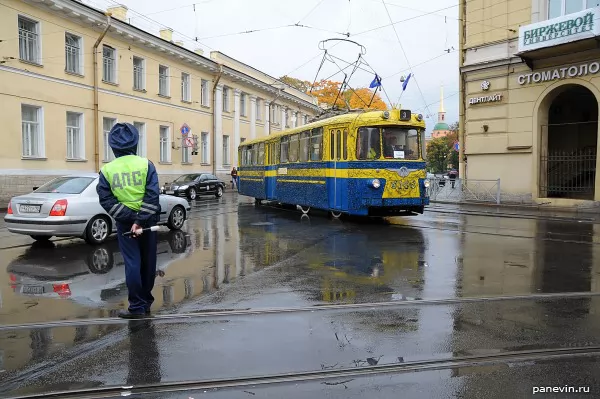 Dude.
The tram, which received such a nickname for its yellow-blue coloring.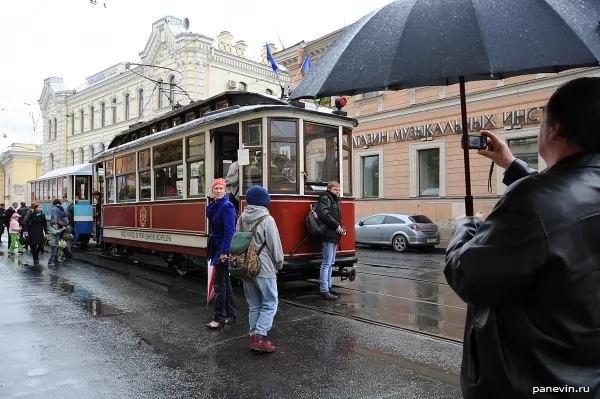 The first St. Petersburg tram of the English company "Brush", popularly nicknamed "Breshka". Not a single genuine tram has been preserved; this tram was built on the basis of the 1929 MS-1 car of the Krasny Putilovets factory.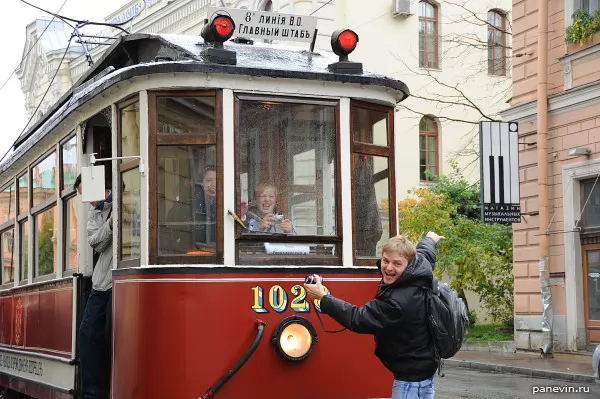 People happily take pictures with a historic tram.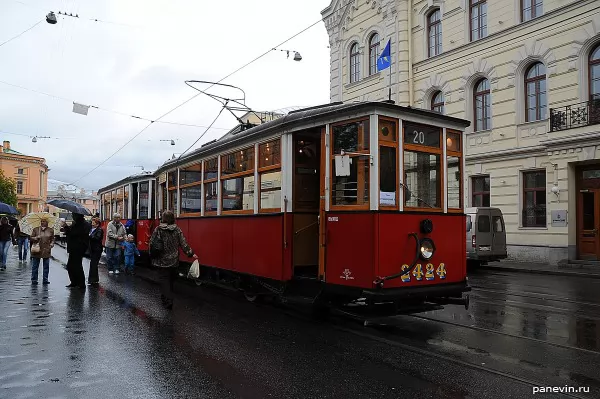 Tram 1937
Externally, the tram repeats the appearance of the very first tram. Route 20, Pargolovo - Lassalle Square.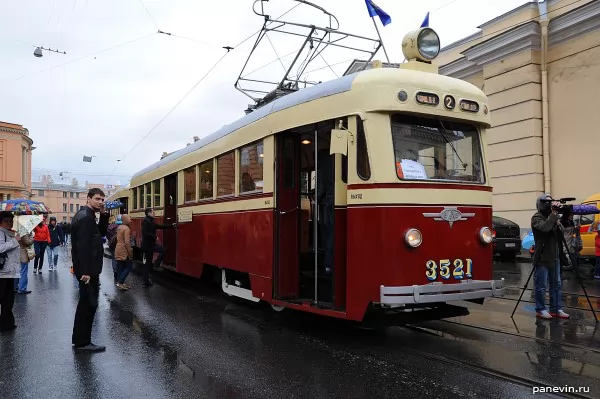 The post-war tram, for its appearance, received the nickname " Elephant " (for its large mass, rounded shape and upper body, painted in ivory). The most massive tram, the LM-47 (by the way, the LM-49 was the same elephant).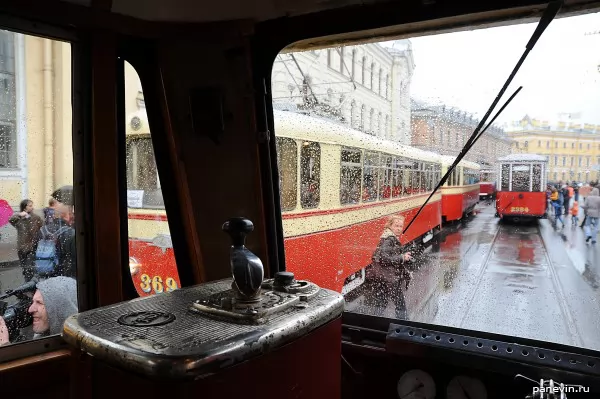 In the cockpit of the tram LM-47 ("Elephant"), the control handle of the course. I was struck by the fact that such trams still run on lines in Khabarovsk, in St. Petersburg retro equipment travels on routes exclusively for tourists.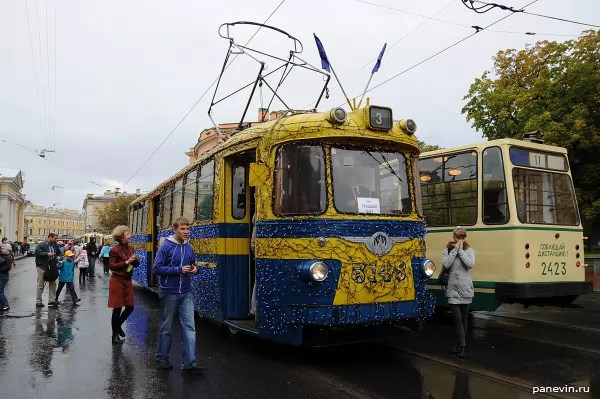 On the eve of the New Year, "Styliaga" travels along the central streets of St. Petersburg, decorated with garlands.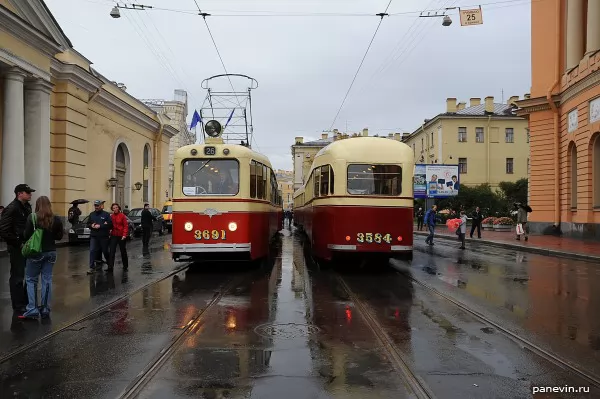 Elephants
More precisely, the "Elephant" is the one on the left, it is the most mass tram (LM-49 tram, produced by VARZ - now the St. Petersburg Tram-Mechanical Plant). Right - LM-47.

The numbers on trams in St. Petersburg have always been four-digit and the first digit indicates belonging to the park.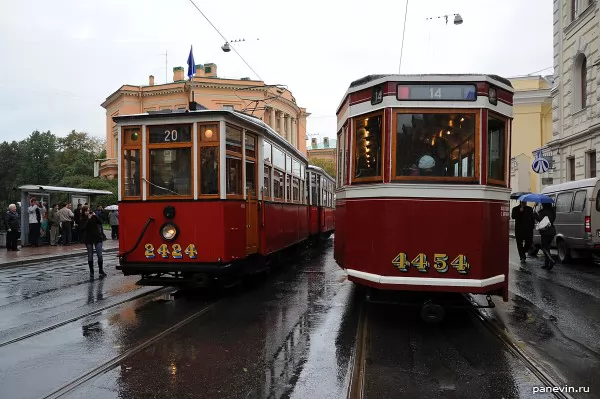 Pre-war trams.
Trams stood on Engineering Street between Sadovaya and Circus. Right - LM-33.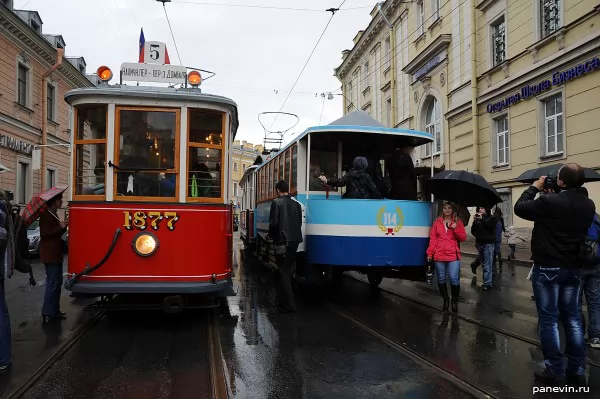 Old trams
On the right is a replica of the Konka car, on the left is a replica of the pre-revolutionary tram.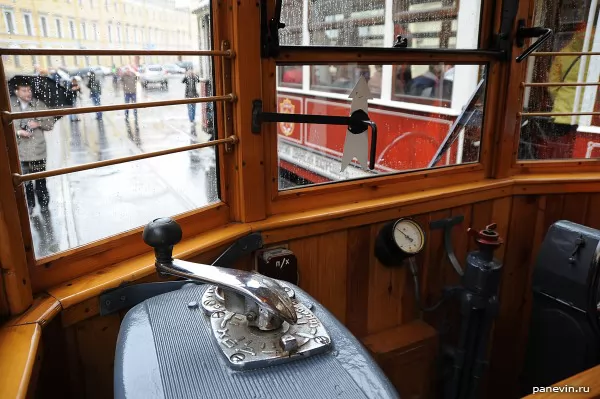 In the tram cabin
It was possible to go into the cabs of trams and the little one did not miss the chance to call. In one tram, the rope of the bell was cut off, could not stand it (some spinogryz probably hung on it).

Controlling the progress with the single "Stop - Stop" handle.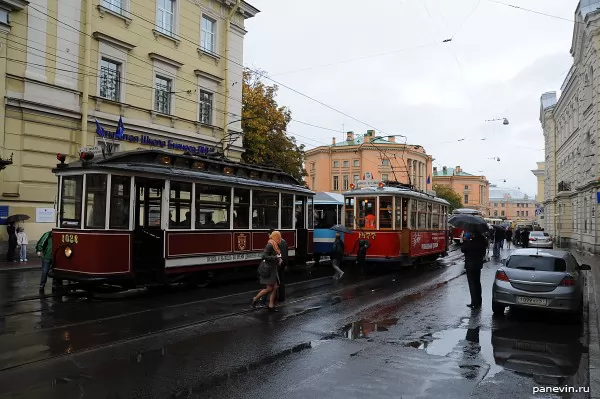 A string of trams on Engineering Street
On the left is the restored first tram, on the right is the 5th number built a little later, the Nalichny Lane route is Dombal transport.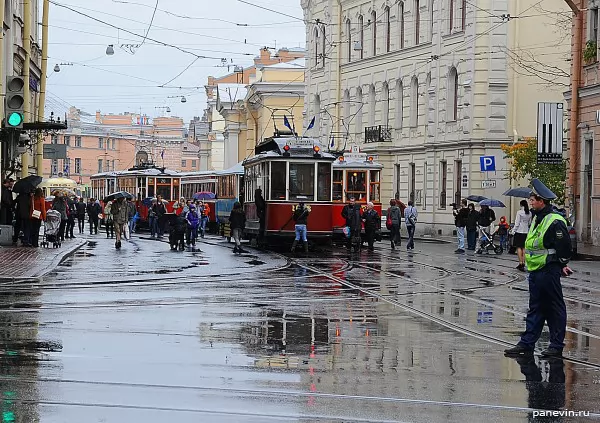 Trams
For the sake of trams, Engineering Street was blocked for 2 hours. At the end of the tram parted and those who wish could ride on any of them.



Dude
And goodbye, once again "dude", one of the most colorful trams.
Share:
Themes:
holidays
34
photos
417
reportage
33
St.-Petersburg
119
technics
17
trams
5
transport
13
Ticket sales through JetRadar.com service without commissions and markups.
←
Blog
sankt-peterburg_parad_tramvaev
blog