Day of Dostoevsky
50
photo
with description
02.07.2016 23:40
02.07.2016 23:40
Andrey Panevin

In St.-Petersburg already began tradition to spend dramatized Day Dostoevsky on Kuznetsky pereulok.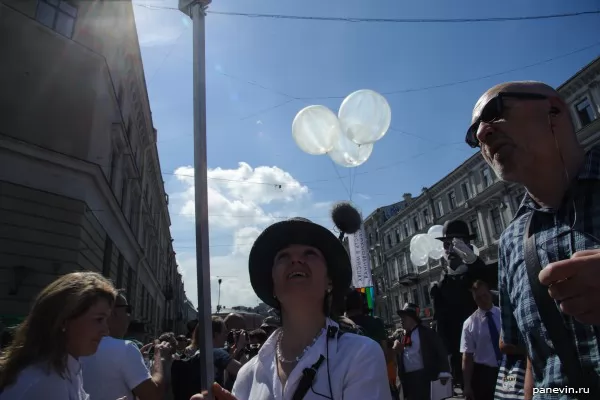 Procession of writers, action beginning.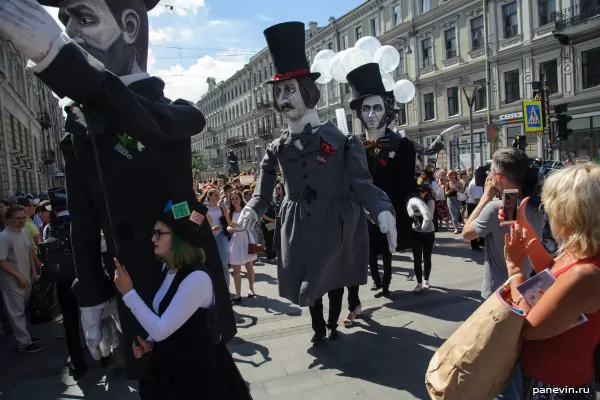 Gogol and Pushkin.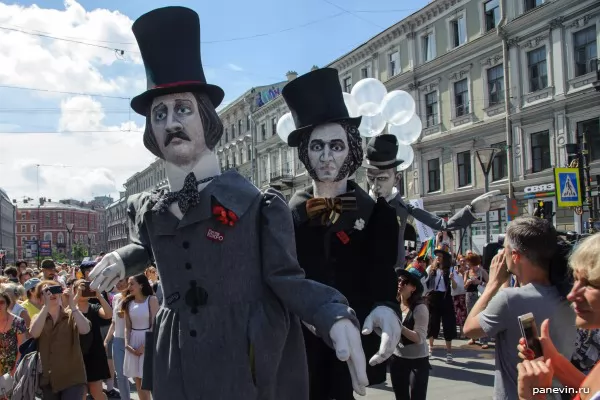 Gogol, Pushkin and Kharms.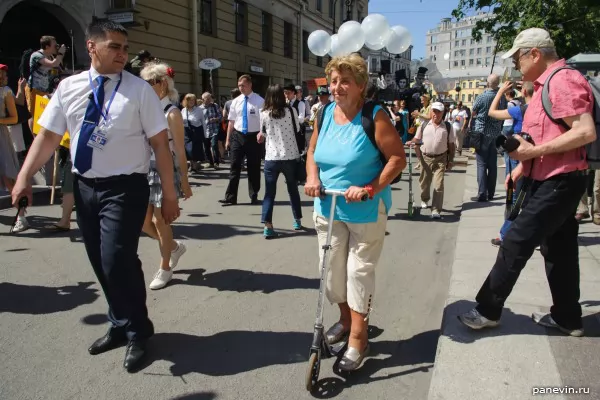 Pensioners on skates.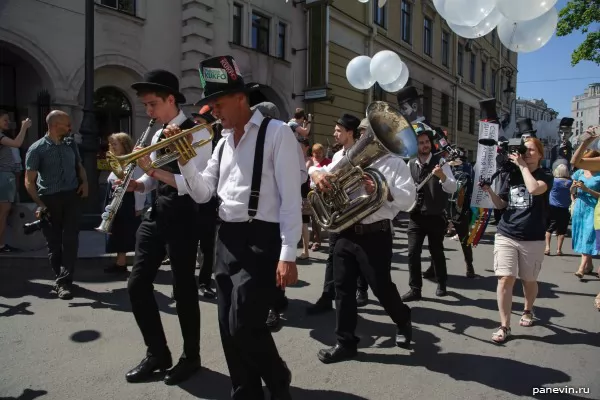 Orchestra.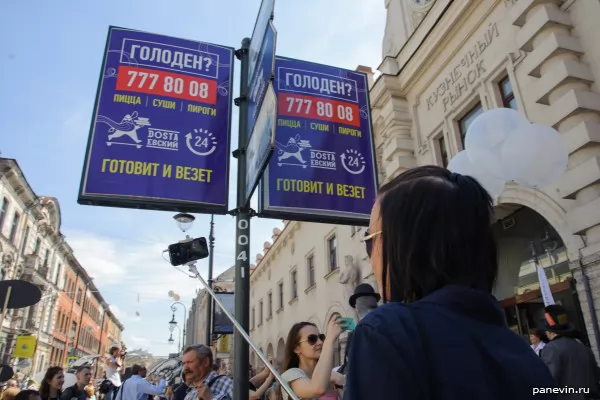 Contextual advertising:)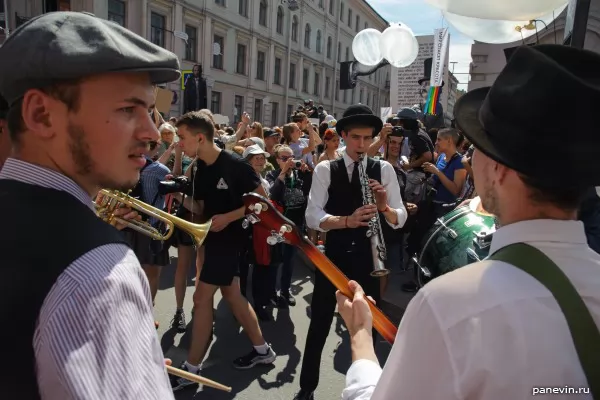 Musicians.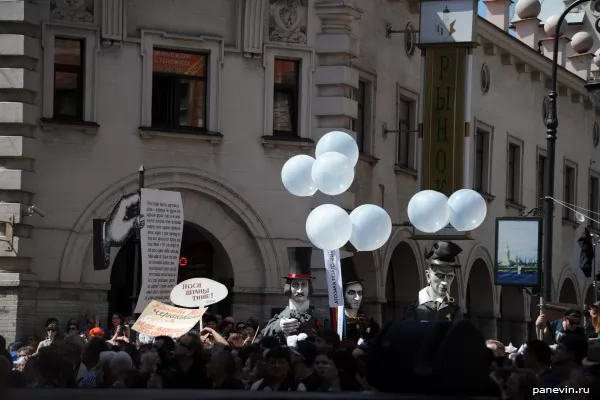 Huge dolls of writers have reached, in the meantime, a scene where have settled down. Then they will disperse everyone on the monuments — Pushkin on Square of Arts, Gogol on Malaya Konjushennaya. And at Kharms the monument is not present...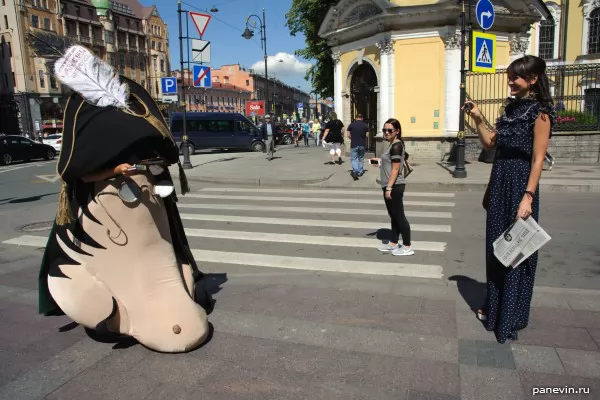 Gogol's nose.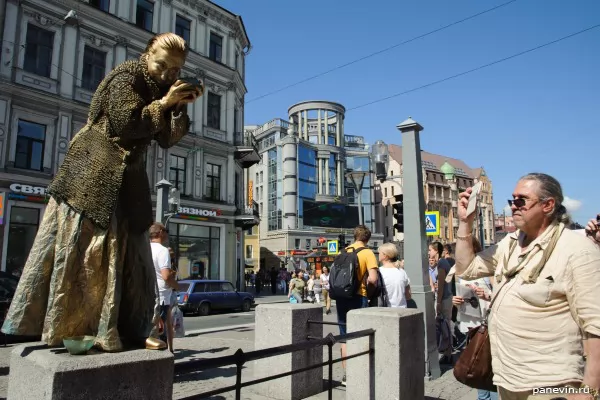 Old woman pawnbroker. As well as last years were tightened «live sculptures» in an image of heroes of Dostoevsky.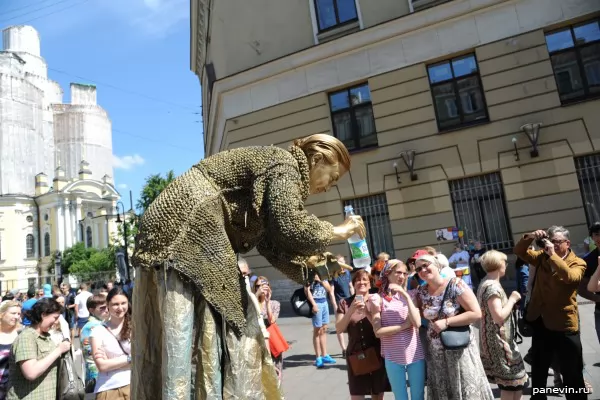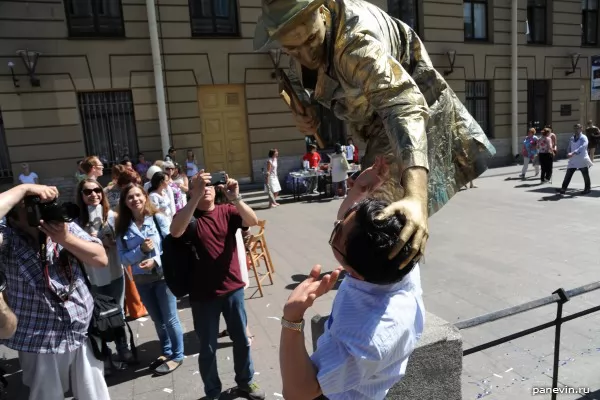 Raskolnikov. With an axe, yeah.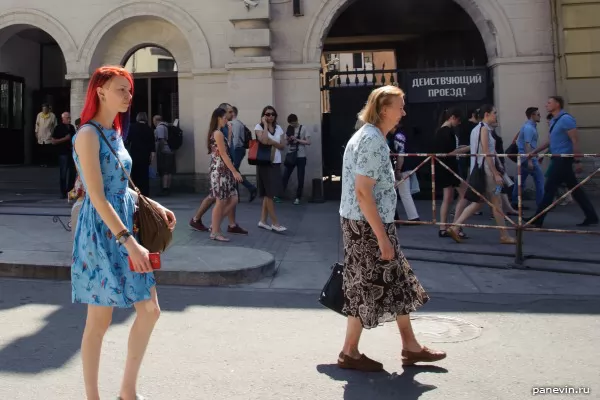 Different people.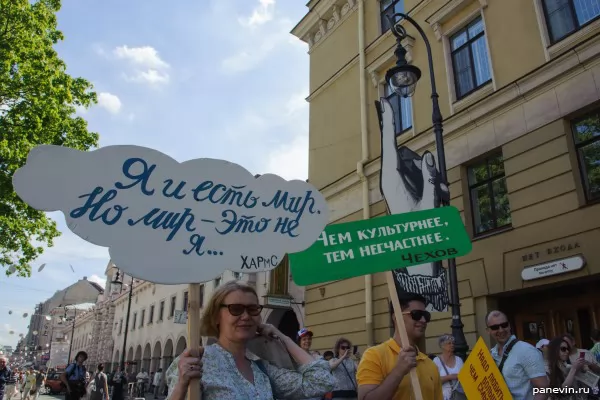 This year also went people with citations of writers. «I'm the World. But the world is not I» (Kharms), «More culturally — more unhappy» (Chekhov).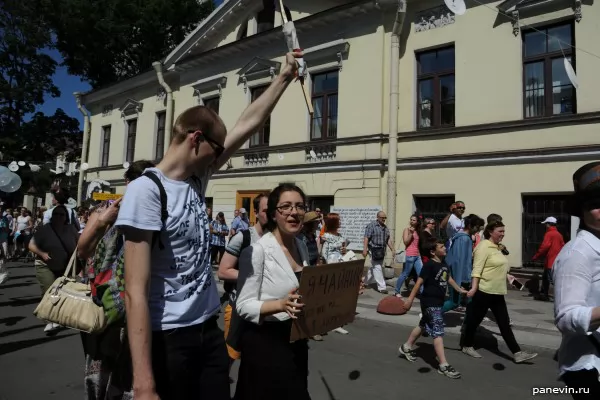 «No, isn't... I'm actress!»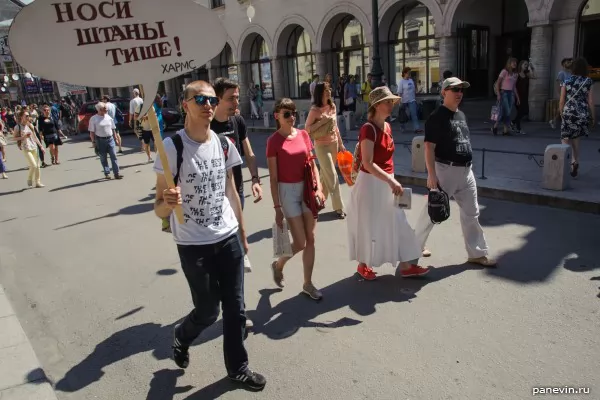 Carry trousers silence! (Kharms)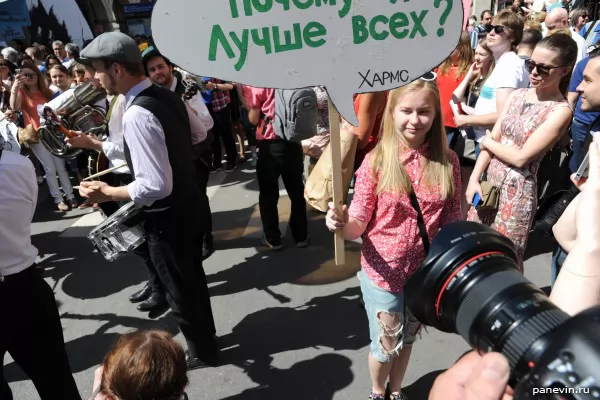 Because I'm the best? (Kharms).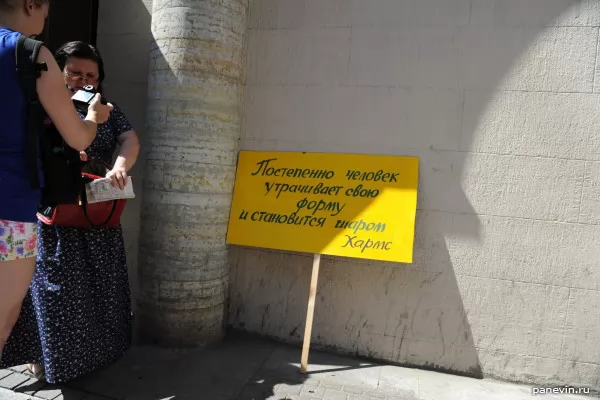 Gradually person lost form and became a sphere (Kharms).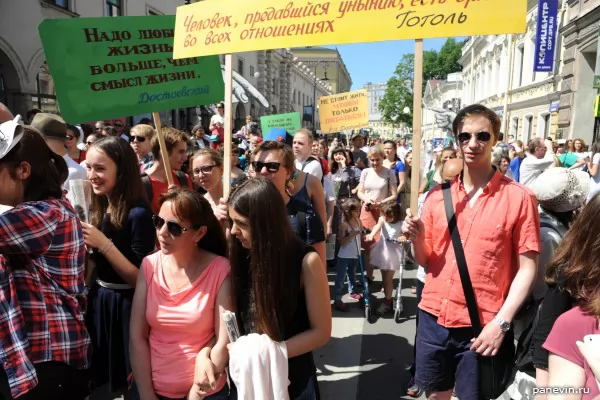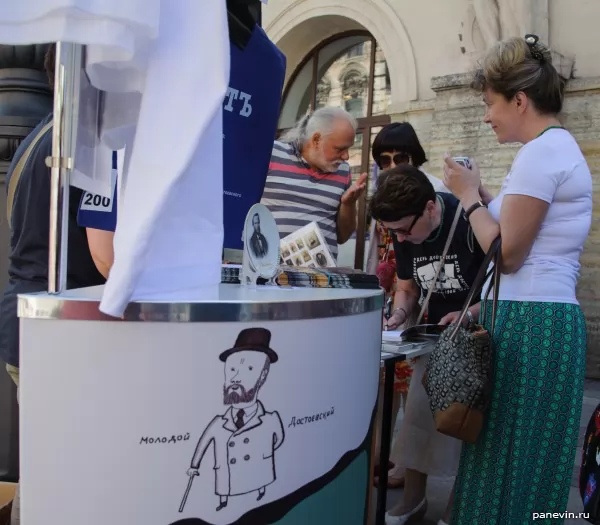 Souvenir bench with thematic production.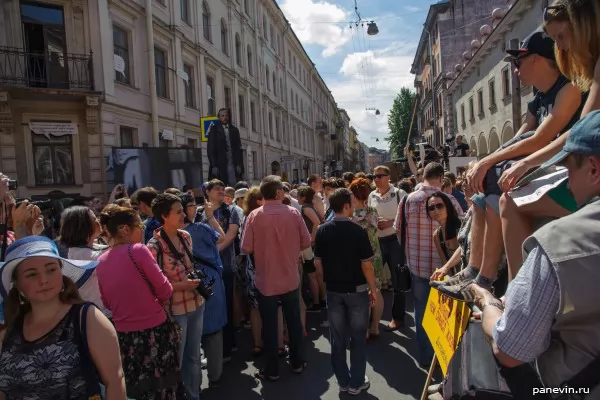 Lady in hat was especially pleased, such picturesque characters was a little.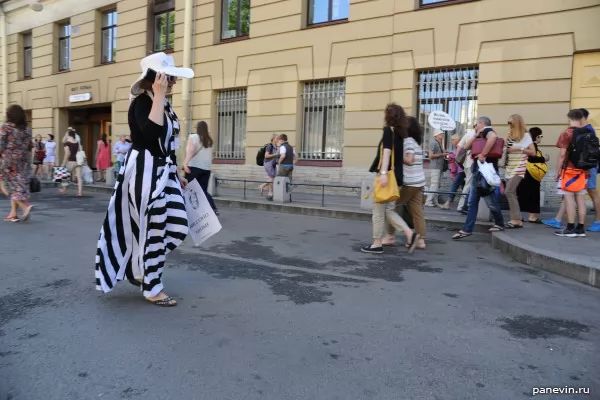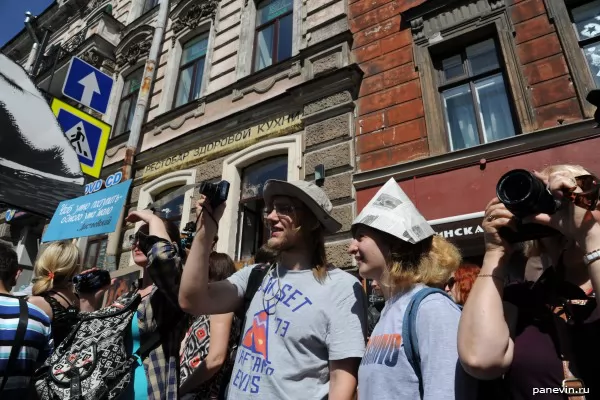 This day was too hot for Petersburg and someone made hats from paper.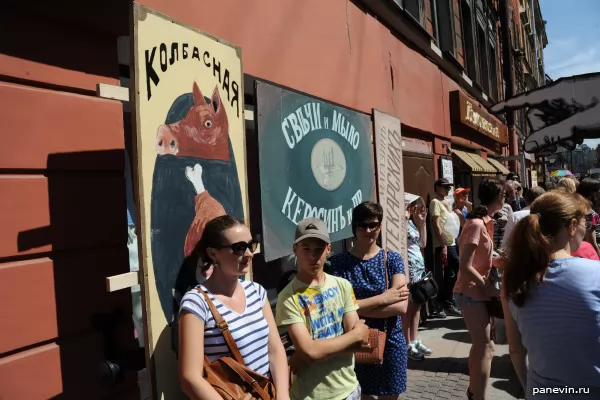 On Kuznetsky pereulok all modern signboards of shops have replaced with old stylisation.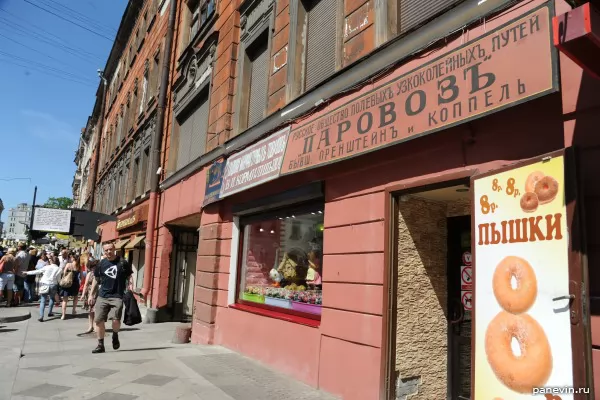 Suddenly, on a house roof was found the mysterious inscription.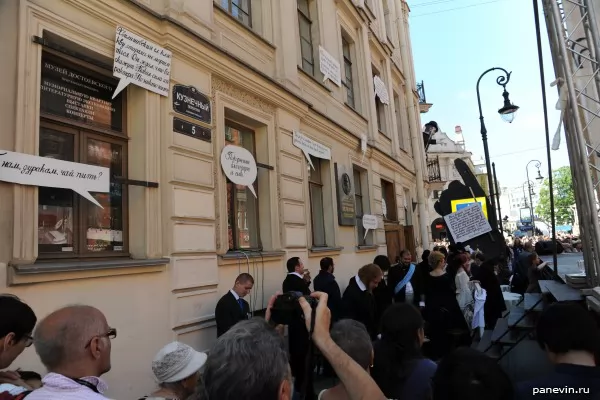 On neighbouring houses have settled down citations from Feodor Mihajlovich books.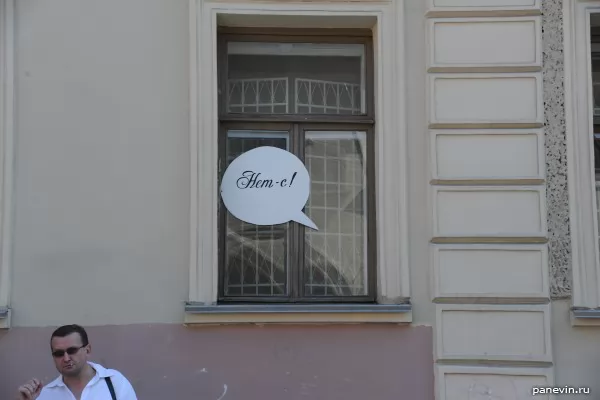 No!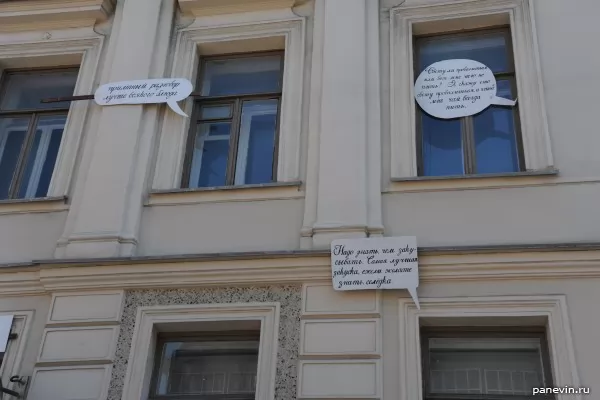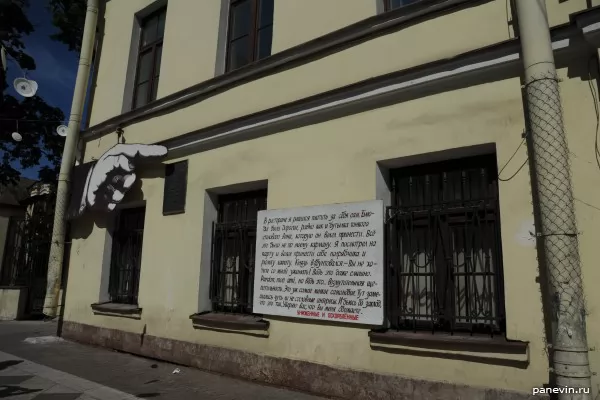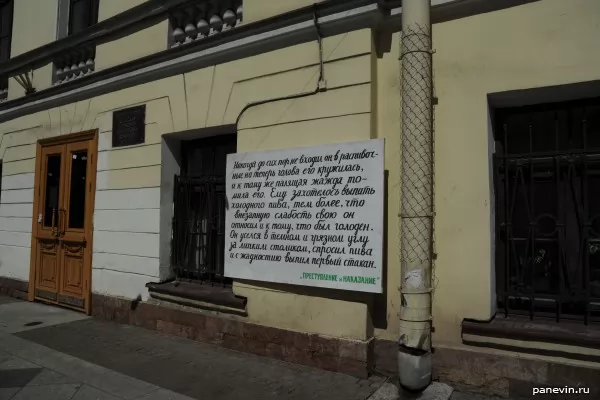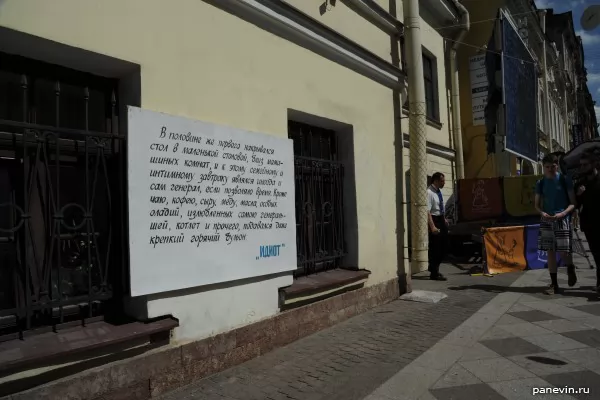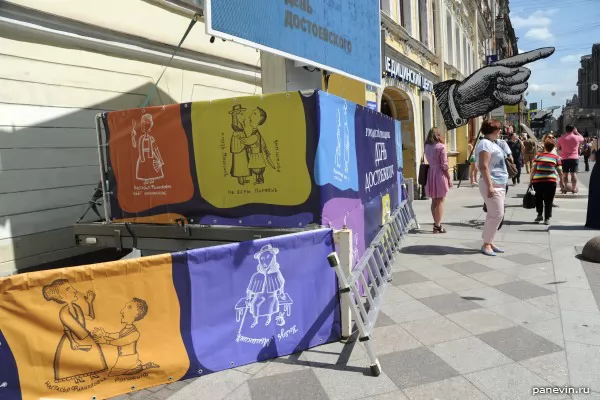 Screen protection has been creatively issued! Beauty!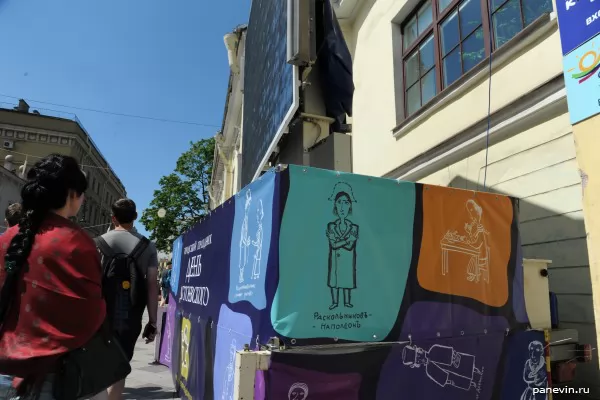 It was so cool that passers-by and with it were photographed.



Spectators before a scene.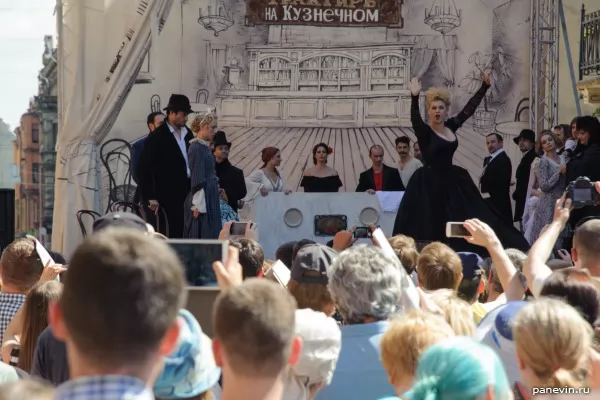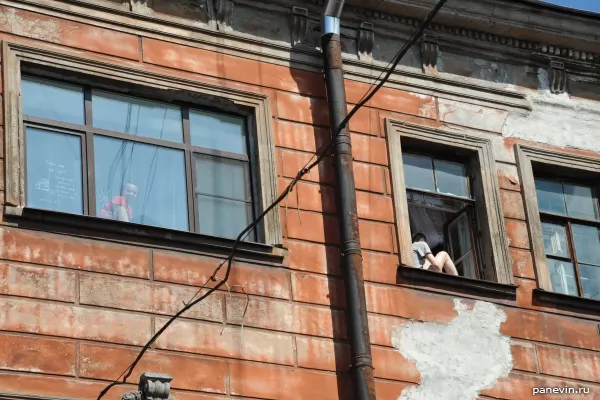 Inhabitants of nearby houses has carried most — protected from crowd below, they freely observed from windows.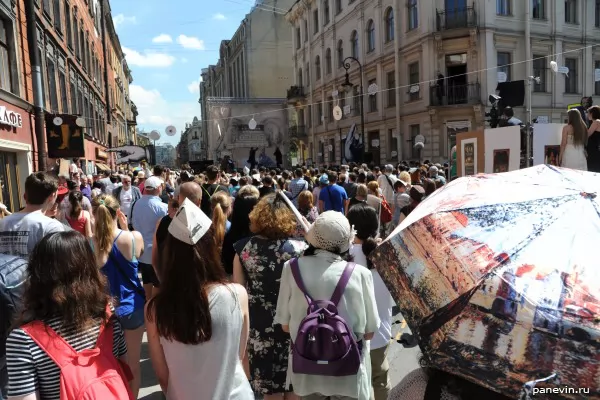 Spectators before a scene.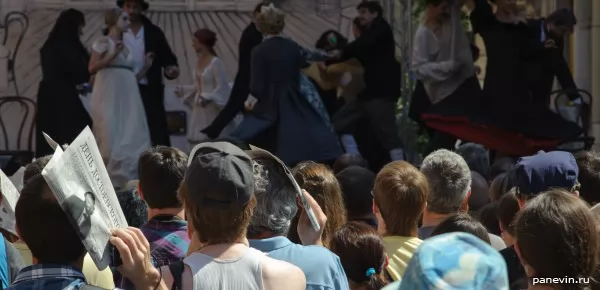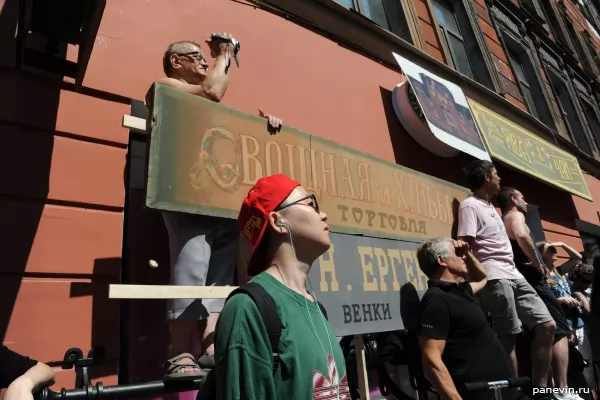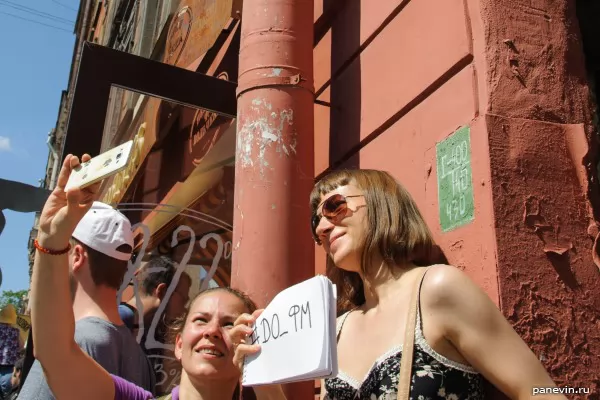 Lady with phone made selfie.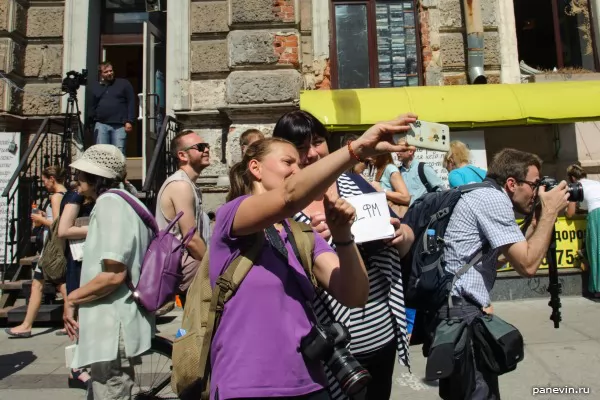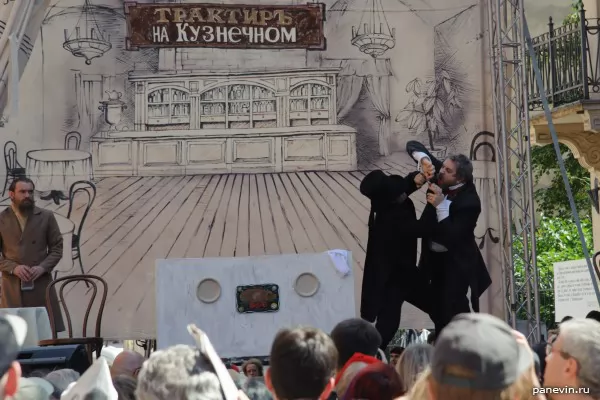 Struggle of Velchaninov with Trusotsky (the story «Eternal husband»), at the left sad Feodor Mihajlovich.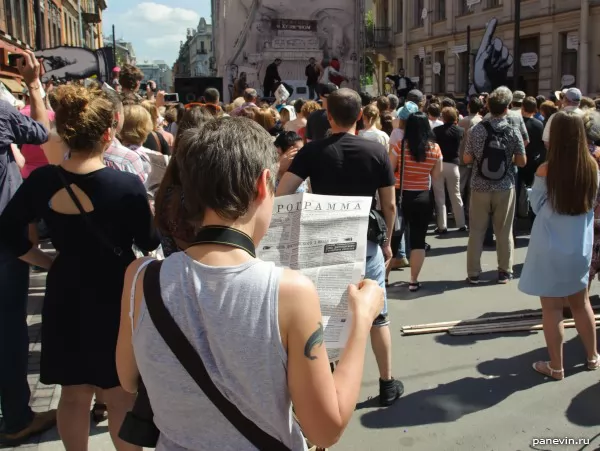 Lady looking to the program.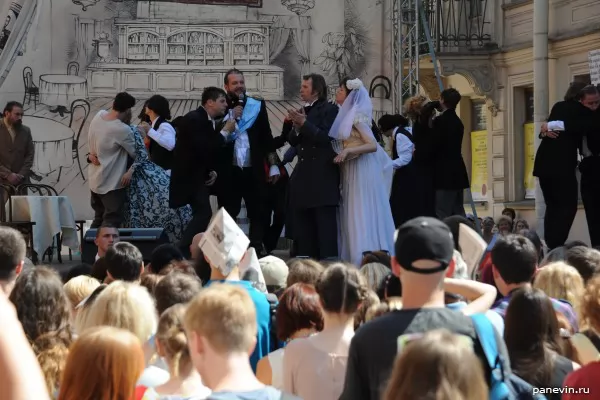 Scene with heroes of Dostoevsky's books.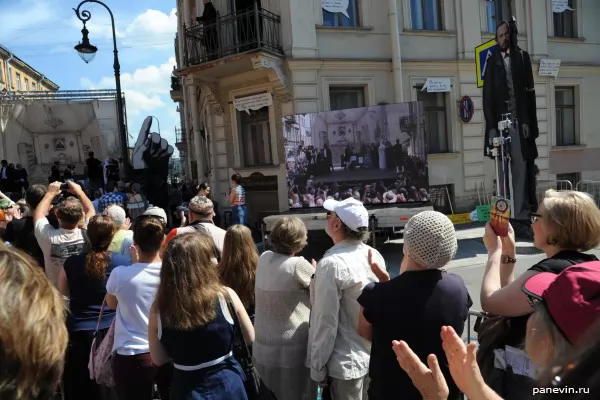 Wedding general finished the speech.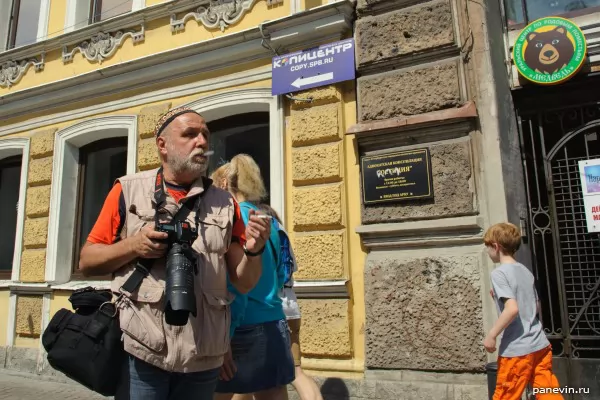 Picturesque photographer in a skullcap. It was not kept, to photographed.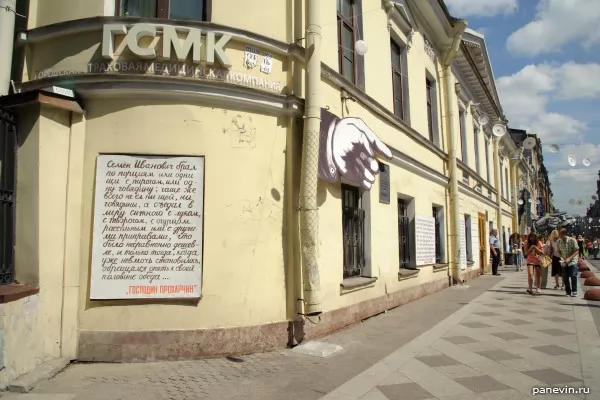 At last, one more citation. All subjects of performance and all citations anyhow were on a theme of taverns and drink.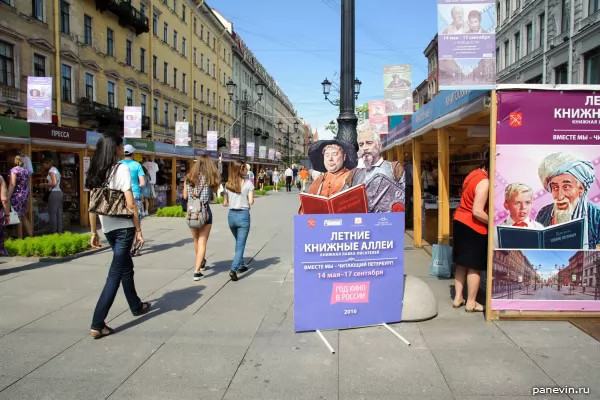 In Day of Dostoevsky in city was many actions, on Malaya Konjushennaya street was Book Avenues.
Share:
Themes:
Day of Dostoevsky
2
F. M.Dostoevsky
1
holidays
34
people
30
photos
417
reportage
33
St.-Petersburg
119
Ticket sales through JetRadar.com service without commissions and markups.
←
Blog
den_dostoevskogo_1
blog