Monreale Cathedral, internal furniture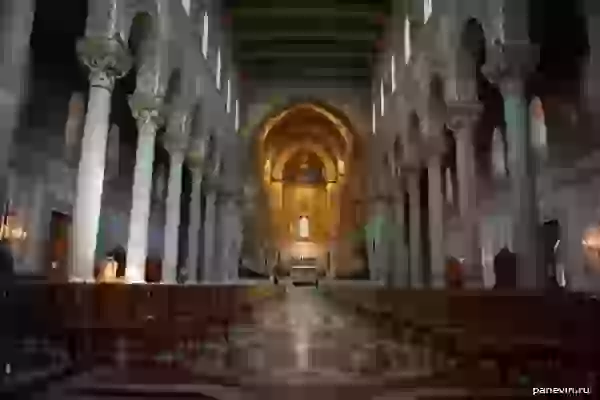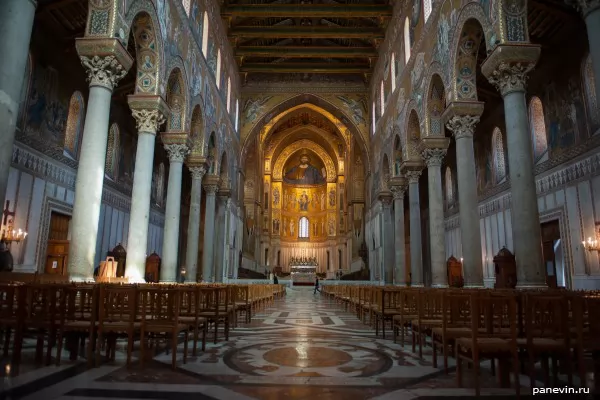 25.03.2014 15:37
Inside Monreale Cathedral a mosaic large quantity: Shabby and New Precepts, lives of Apostles, the Christ the Almighty (in a cathedral apse, in the distance in this picture) and, for example, crowning by Wilhelm`s Christ II (under whose instructions, accelerated tempo of all for 15 years, the cathedral and has been constructed) are described.

«In a cathedral Monreale gold mosaics shine monotonously to tiresomeness. Other paints seem muddy and dim, they do not know a sparkling for which it is necessary that light and a shade have been divided. Deathly images of the Christ and sacred in apses are visible from everywhere with intolerable distinctness. For some reason these worst samples of the Byzantian mosaic could draw time and again attention of the Russian people who were occupied with thought on national art and not having concepts about its original and great examples. These mosaics were pleasant to emperor Nikolay Pavlovichu, and they explain much in barbarically motley and bulky compositions of Vasnetsova. The cathedral in Monreale clearly says that in the end of XII century the mosaic has become obsolete. It have ceased to understand and forced to draw duty of other art».


Pavel Murat,«Images of Italy».
code to blog:
Share:
Ticket sales through JetRadar.com service without commissions and markups.
sobor_monreale_vnutrennee_ubranstvo
photo